Immersive Historical Projects
Gardiner's Company members undertake many smaller arts and sciences projects to add to their personal kits. Also, the company as a whole collaborates to add to the overall atmosphere with large projects such as building a timber-framed kitchen at our wooded site in central Virginia which serves as the current site for our musters and other events.  
Event Support
An ongoing effort of members of the company is planning and executing our annual Company Muster. Additionally, Muster is an excellent opportunity for attendees to use individual projects and display skills learned at workshops and other gatherings. We invite you to learn more about Muster and make plans to join us soon!
GARDINER'S COMPANY KITCHEN
The Gardiner's Company kitchen project began in 2014 and has been a work in progress as members can participate. Now that it's nearly complete, members of the Company are very excited to prepare and cook meals in the kitchen using period appropriate recipes, ingredients, equipment, and techniques. In the end, we hope to have a permanent event site for workshops or immersive events consisting of the kitchen as well as other future structures.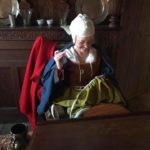 You can find kitchen construction information on the Gardiner's Company blog under the kitchen tag.
JAMESTOWN COLLABORATIONS
For many years, members of Gardiner's Company have participated as trained volunteer costumed interpreters for special events held at Jamestown Settlement, a part of the Jamestown-Yorktown Foundation. In particular, JYF's Military Through The Ages held in March and November's Foods and Feasts are company favorites.
Gardiner's Company as an entity has also been invited to participate in recognition of the 400th Anniversary of Jamestown which featured visits from Queen Elizabeth II and the President of the United States.
In more recent years, members of the Company served as instructors and volunteers, and many more attended Jamestown Settlement's Biennial 17th Century Clothing Conference. Sessions taught by Gardiner's Members included:
"Curiously Stitched Seams: Open-work/Insertion Seam Techniques for Shirts and Shifts" presented by Victoria Dye

"Stitches in the Air: Needle Lace in the 16th Century" presented by Grace Gamble

"Making Worked Buttons" presented by Cathy Snell

"Hooks-n-Eyes" presented by Kat Ferneley
Another group project of particular interest was a shared effort to create an upper class suit of clothing for a Jamestown-Yorktown Foundation staff member appropriate for him to portray Governor Delaware.
In an ongoing effort to share information, various members of the company host workshops and project weekends to teach and learn new skills while socializing with others who share common interests.